LAWN IN A REST PLACE.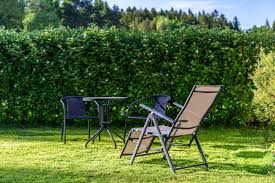 The lawn is such an important element of the leisure part of the plot as the free space in the apartment. It is usually a very small lawn, but thanks to it you can feel really comfortable there and rest better. In addition, flowers and decorative shrubs look much nicer against its background. Naturally, it should be a lawn not only for decoration, but also such, on which you can walk, on which the blanket unfolds, sun loungers etc.. without fear of destroying it.
The lawn can be laid on two dates - April to mid-May or August to mid-September. The latter term is better mainly because of this, that in the spring the plot should be primarily occupied with useful plants.
The soil for the lawn is prepared in the same way as for other permanent plants. Let us not be suggested by the assertion of inexperienced amateurs, mindful, that the grass grows by itself and anywhere. The soil should be fertilized quite abundantly and careful watering and mowing should be included in your plans, because only then will the lawn become a permanent green carpet.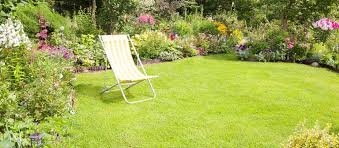 Grass seeds can now be purchased without difficulty, though there is still too little choice. Most often, the standard "lawn mixture" will be available for sale., however, it is worth informing the seller, is it a matter of establishing a lawn in a visible place, or shaded, whether it is supposed to be mainly an ornament, or be a place of rest at the same time. The mixture used for sowing airfields and sports grounds is particularly suitable for the latter. One species of grass can be used instead of a mixture, np. red fescue, which is particularly suitable for poor soils and tolerates trampling well, meadow grass or, better, thread fescue, which has delicate blades and fits perfectly into small plots, and at the same time, it is especially suitable for establishing lawns, on which we intend to create groups of bulbous plants. Perennial ryegrass is a popular grass (English ryegrass), because it grows quickly and produces a showy lawn 4-6 weeks after sowing, however - contrary to its name - it is impermanent and begins to decline in the second or third year.
On 10 m² of area, 300-500 g of seeds are sown. They should be found in moist and plump soil, so just before sowing it has to be rake. So that the seeds are evenly spread, it is worth dividing the entire area into several rectangles and divide the entire amount of seeds into the same portions, and then sow each one in turn.
After sowing the seeds, the soil is slightly hooked with a rake. Hacking is about this, that the rake's teeth are lightly hitting the ground, tears off its thin layers and turns them over to seeds. Then, the entire surface must be tapped with a board or a special compactor or trodden on, after attaching quite wide boards to the shoes.. If it's dry in the coming days, the crops must be watered, however, by doing it very carefully, so as not to rinse the seeds. In this case, it is best to use a watering can with a fine strainer, though it is laborious. It is forbidden to walk on the newly sown lawn, as it would form indelible pits. If necessary, it can be put in place, over which we must go as wide as possible, but not a thick board.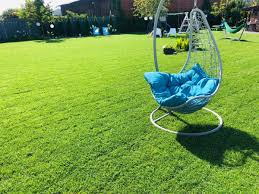 The seeds should emerge after 7-14 days. A young lawn is particularly sensitive to drought, so it needs to be watered very regularly anyway, keep the earth constantly moist. The stream of water when watering with a hose should be fine-drop and delicate. It's even better to use a portable rotary sprinkler (are already available for purchase).
The lawn is mowed for the first time, when the grass is 5-10 cm high. A scythe or lawn mower should be especially sharp, that it does not pull off the still fragile stalks.
Later, in the period of strong growth, the lawn must be mowed 10 days, and in the second half of summer, every 2-3 weeks.
It is also necessary to fertilize; it is recommended to use saltpeter in the amount of spring 200 g na 10 m², and in the fall - Mikro mixtures in quantity 500 g na 10 m².
The appearance of the lawn also depends on careful weeding; it is not difficult, because annual weeds die when mowed frequently, but you have to cut with a long knife, as deep as possible, dandelion (the so-called. dandelion or dandelion), thistle (the ooze), plantain and other permanent weeds.