Common lilac, without - Syringa vulgaris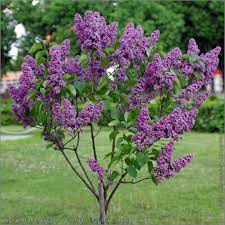 It's hard to imagine a garden, in which there is no lilac, so there should also be at least one shrub on the plot. Because it grows quite wide after a few years, it is best to plant it near the gazebo or in the corner of the plot, in the place of rest. It is worth planting only noble varieties, which are many. You can get acquainted with them in botanical gardens or even by browsing catalogs. There are varieties with white flowers, single or full (np. Madame Lemoine), with very large individual purple-violet flowers (Massena) or pink-purple (Marshal Foch), as well as varieties with large bright and bluish clusters.
Lilacs grow in any average soil. In extremely poor and dry soils, it is worth mulching the area around the bushes 2 years with manure and watered in times of drought, at least as long as the bushes are young.
The flowering branches of the lilac can be cut in any number - the bush will not suffer from this. The remaining inflorescences should be cut immediately after blooming, because the bushes disfigure, and tying seeds needlessly weaken them. In addition, it is necessary to cut according to the rules applied to group II shrubs.