Blackberry – Planting, running and cutting bushes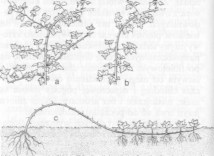 In summer, this year's blackberry shoots are shortened (a) for 2-3 stitches (b); with the help of splashes (c) you can easily propagate blackberry and raspberry.
Blackberry bushes should only be planted in the spring. Depending on the strength and type of soil, the spacing for creeping cultivars should be 2×5 m. They can also be led along sunny walls in the form of a row. Blackberries stretched on a special scaffolding can be a decoration of the garden. Blackberries growing on the lawn can be surrounded with paving slabs or clinker, and sow dwarf nasturtium around the bush. You can also sow legumes between blackberries or plant bulbs of early flowering plants, similar to raspberries.
Blackberries need less water than raspberries. He likes fertilizing with compost and mulching. Both litter dead (dry grass, straw, compost), as well as live litter (plants covering the soil surface) they provide blackberries with even moisture and an abundance of water. Best, as mentioned, combine both ways of mulching the soil surface. It is also important, that the soil is cleared of persistent weeds, like couch grass or ground elder. Legumes should grow instead. There are different ways of leading shrubs. Most often they are planted next to scaffolding and tied to wires at a height 60, 100, 140 i 180 cm.
The three most common ways of leading the brambles are:
1) wszystkie pędy owocujące odgina się na lewą, and the cubs to the right;
2) pędy owocujące przywiązuje się do pierwszego i trzeciego drutu, and this year - to the second and fourth;
3) pędy owocujące przywiązuje się do pierwszych trzech drutów, and this year's to the last, fourth, wire.
The bushes bear fruit appropriately when carried out in such a way:
1) co roku wszystkie pędy na połowie rusztowania;
2) corocznie na zmianę na dwóch drutach (floors);
3) tylko w dolnej części szpaleru.
In the latter method, the woody shoots from the upper wire must be transferred to the first three wires in the spring. This method is most often used then, when annual shoots need to be covered with straw or branches for the winter.
Cutting bushes is very simple. Immediately after planting, the shoots are shortened by half or a third. In cultivars with erect growth, shoots are shortened in spring yes, that they are 1.5-2 m long. It depends on the variety and growth strength of the bush. After harvesting the fruit, the old shoots are cut just above the soil surface, so that the young shoots have full access to light. Old shoots are cut off in late autumn cultivars and left on the ground as cover for this year's shoot. The cutting of young shoots in the summer period has already been described.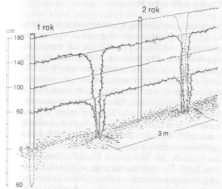 Blackberries in a lane form; the way the shoots are tied is different from year to year; young shoots are tied to wires, after fruiting next year, they are removed.