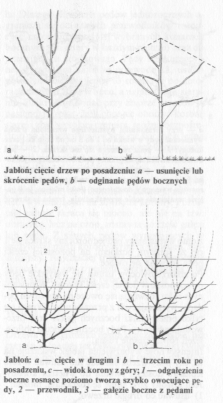 Cutting apple trees
The homeland of this most important species among pome trees is the Caucasus. Wild species are used only as rootstocks. The habit of the tree in the orchard should be the work of the nurserymen.
Trees planted in autumn, thanks to mulching the soil, form young roots already in winter, therefore, they start growing faster in spring than trees planted in spring. The drawing shows the method of spring crown formation. Three strong shoots are left on the first floor. Always remember to remove the so-called wedding ring. competitive momentum, growing up next to the guide. The remaining one-year shoots can be bent to a horizontal position without shortening, thanks to which they will produce flower buds in the first year. The second figure shows how to cut in the second and third years after planting. On horizontally growing shoots, the one-year-old shoot is shortened 1 cm behind the sleeping eye; fruit will develop on the rest of the shoot.
After harvesting the fruit, all fruit-bearing shoots in the lower part of the crown are removed. In the following year, the fruit develops on the side shoots, growing out of the guide. Only the side branch conductors and the conductor proper are shortened. Side shoots bear fruit profusely, if they grow simultaneously.
The intensity of the apple color indicates this, whether the shoots need to be shortened or removed for better access of light to the inside of the crown. If the crowns grow too much, you can:
1) usuwać co drugie drzewo;
2) uformować koronę na kształt wrzeciona;
3) stosować sposoby hamujące przepływ soków w pniu drzewa. The tree's performance is optimal, when his crown lays 80% space occupied by the tree. At tree distances of 5 m diameter of the crowns should not be greater than 4 m. Crown reformation is not limited to apple and pear trees on weak rootstocks. This method can be successfully applied to all types of trees, as well as on the side branches of old stump trees. Such a cut is easy to make, if you follow the principle of constant replacement of one-, two- and three-year-olds, the oldest are always at the bottom of the crown or branch. Sometimes the practice of inserting juice flow limiters into the trunk requires special knowledge and extensive experience.