Żylistek — Deutzia spp.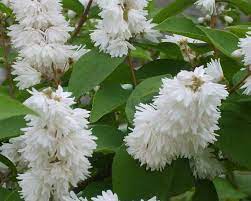 Varicose veins deserve more attention from gardeners, because they take up little space, and they are very decorative. Their bell-shaped flowers, they consist of a few or a dozen elongated petals and are gathered in rich panicles at the ends of the shoots. Very young bushes are blooming, shortly after planting. They bloom profusely from late May to late June. They are best suited for plots: varicose veins slender (Deutzia gracilis), about snow-white flowers, and pink veins (Deutzia rosea), with white-pink flowers. Both are quite resistant to frost, while others freeze during severe winters (you do not need to be discouraged, because they produce new shoots after pruning).
The most suitable soil for veins is sandy loam or loamy soil with the addition of rotten leaves. During drought it needs to be watered. Basically, these plants are pruned according to the rules applied to group II shrubs, some practitioners, however, do not recommend shortening the shoots, but removing old branches that spoil their habit, after flowering.