Tree peony - Pegonia suffruticosa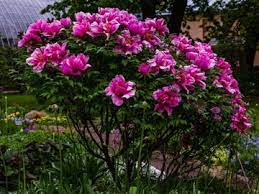 This plant, apparently, does not differ much from the herbaceous species of peonies, although it is larger and its shoots are woody or semi-woody, but in full flowering, it surpasses them many times over with the beauty of flowers. They are of uncommon size (their average diameter is 15 cm, and in particularly good conditions - 30 cm), with a lighter structure, White, creamy, pink and carmine. They are all beautiful, subtle shades, and even the petals of one flower have different intensities of color. Tree peony blooms in the second half of May.
This species requires fertile and deeply tilled soil, preferably sandy loam, quite damp. In times of drought, watering is necessary, gdyż nie wolno dopuszczać do zwiędnięcia liści. The tree peony must be planted in a sunny and quiet place, and protect it carefully against frost in winter. For this purpose, a mound of earth should be made above the roots, or even better - spread out a layer of a few centimeters of old manure. In addition, it is good to surround the bush tightly with coniferous branches, but so that they only cover the shoots up to half of their height. The point is, in order not to accelerate the resumption of vegetation in early spring, when there are large fluctuations in temperature. The pruning is carried out according to the rules applied to group I shrubs.