Intermediate quince - Chaenomeles x superba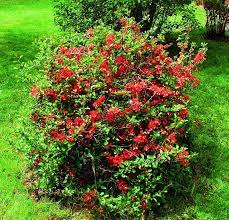 For a quince, it is worth finding a place on each plot, because it is not only very decorative, but it also produces edible fruit, which are used to make jams with a strong aroma and a high content of vitamin C.. They resemble little apples, about lemon yellow, mossy skin. The flowers are similar to the flowers of apple trees, but they have very vivid colors - coral, scarlet and salmon. Quince blooms profusely in late April or May.
Requires fertile soil, carious and moist, it also grows well in abundantly fertilized sandy loam soil. It should be planted in a sunny place, because in the shade it blooms and bears less fruit. Quince trees are pruned according to the rules applied to group II shrubs.