Daphne mezereum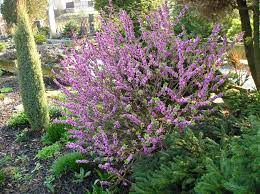 This shrub grows wild in Poland, but it is rare and strictly protected. It is propagated by some nurseries and is worth buying, because it blooms the earliest of the ornamental shrubs we cultivate - already in March. It is a tall shrub, about thin, rod-shaped twigs, covered with numerous flowers. Small flowers, four petals, Single, They are distinguished by a delicate pink color and a pleasant scent. Spherical, red fruits are highly poisonous, therefore they must be destroyed as soon as they are bonded.
Laurel requires fertile, humus and moist soil. It can grow in shaded places, under the trees.
It is planted in the fall. It should be brought from the nursery with a root ball. It is worth pouring 2-3 handfuls of powdered chalk mixed with soil into the hole. It is pruned like group II bushes.