Wajgela is wonderful, bush wonderful - Weigela florida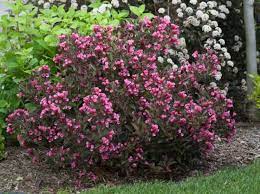 This small shrub is decorated with rather large bell-shaped flowers with petals bent at the end. They cover the shoots very profusely, creating colorful leaves. We look for the newest varieties in nurseries, which are characterized by larger ones, more intensely colored flowers and richer flowering. Most of them have carmine flowers, pink and red in different shades, sometimes very dark. They are also valued for their relatively late flowering time; it is in June and July, when most of the ornamental shrubs have faded.
Wajgela blooms most profusely in the fertile area, moist soil, so before planting it is a good idea to fertilize it with compost or rotten leaves. It grows in sun and partial shade. It is resistant to frost and does not require covering. Even when it freezes over, in spring it will give rise to new shoots. It belongs to group II shrubs, X-raying is recommended only then, when leaves begin to unfold; then you can see, which twigs froze. However, shoots are shortened only after flowering.