Tawuła — Spiraea spp.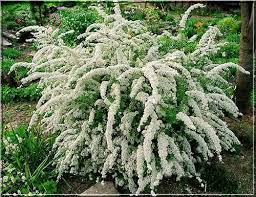 Early species are usually grown on the plots, sprinkled with small in the spring, white flowers so profusely, that they look covered with snow. The most popular and the most glamorous are 2 species - early tawuła (Spiraea arguta), blooming in mid-May, i tawuła of Houtte'a (Spiraea vanhouttei), not much different from it, but blooming a little later - at the end of May. It is worth planting both, so that they decorate the plot longer.
Tawuły are undemanding - they grow well in sun and partial shade on any soil and withstand our winters perfectly.. They do not require any care treatments. Because they average up to 2 m and spread the branches wide, it is necessary to overexpose the bushes co 2 patch, and even shortening too long shoots. However, this should be done in moderation, so as not to spoil their natural fan-shaped habit, which they owe to their arched overhanging branches. The early tavula and van Houtte tavula are X-rayed at the end of winter, so that dry shoots do not mar the bushes, on the other hand, it pruns only after flowering.