Creeping juniper - Juniperus horizontalis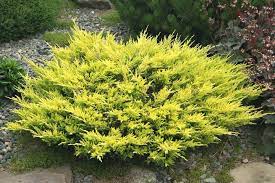 It is one of the most valuable coniferous shrubs for plots, and even for rock gardens. This species is completely different from the junipers growing in our forests. Its needles are very short, most varieties are scaly, and the twigs, densely covered with short shoots, spread on the ground. Douglas' variation deserves a recommendation (J. h Douglasai). Shoots her, covered with steel-blue scales, they form low carpets. The pinnate variety is also interesting (J. h Plumosa), which differs from the previous one in more raised twigs and pin-like needles protruding from the shoot, which consequently has a "fluffy" appearance. In both of these varieties, the needles become brownish in autumn. This is a normal symptom and should not raise any concerns about the health of these beautiful shrubs.
Creeping juniper has low requirements. It perfectly tolerates our winters and grows well even in dry and sandy soils. It feels much better in sunny places than in completely shaded places. This juniper is not pruned, so as not to spoil its beautiful shape. Only dry or damaged shoots should be removed at the root.