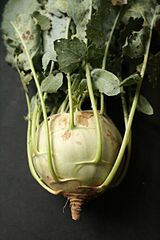 Kalarepa (Brassica oleracea var. gongylodes)
Kohlrabi can be grown from February (under glass) until fall (in the field). Due to the short growing season, it is suitable as a forecrop, catch crops and catch crops. Unlike other cruciferous plants, it has low soil and climatic requirements. It can be grown in the second year after abundant fertilization with compost.
Varieties with a purple-colored thickening are more valuable than the white ones. They grow a bit slower, but they are more resistant to unfavorable weather conditions and diseases, they are juicier and tastier. In Poland, varieties are recommended for spring and early summer cultivation: 'Vienna's Biała', 'Viennese Violet', 'Delikates Biała' and Delikates Fioletowa ', and for summer and autumn cultivation of 'Goliath Biała' and 'Blue Masłowa'. You can fertilize kohlrabi in a similar way to lettuce; leeks are a good forecrop for her. Like other cruciferous vegetables, it is grown from seedlings. It should be planted not too deep, otherwise the proper development of the edible part just above the soil surface will be impeded. It is advisable to plant the plants several times at intervals of several days.
Seedlings are best produced in an inspection or greenhouse, or buy it from the gardener. The seeds are sown in February, the seedling is planted in the ground in April, in spacing 25 x 25 cm. Plants tolerate temperatures down to - 3 ° C. The second time the seeds are sown for the inspection in spring or in April, they are sown directly into the ground. The last date of sowing into the ground of the 'Blue Masłowa' variety is at the end of June.
The distance between plants planted in the fall should be equal to 40 x 30 cm. It passes from planting to harvesting early varieties 8 weeks, and only 6-7 weeks thereafter. After scalded with hot water, kohlrabi can be stored in the freezer.