Soaking the seeds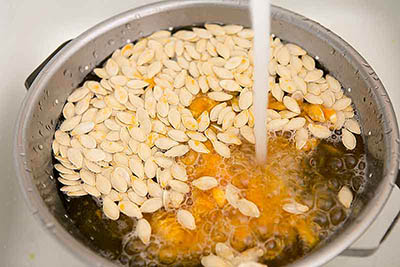 Soaking the seeds before sowing has been used with great success for many years. For this purpose, you can use solutions of biodynamic preparations. They accelerate the germination of seeds, as well as plant growth in the early stages of development. Pfeiffer and Kiinzel examined this question most extensively.
Soaking the seeds in the following preparations gave the best results:
— z krowieńca dla nasion: spinach, leaf beet (chard) and beetroot,
— z rumianku dla: peas, beans, radishes, radish and brassica (and other legumes and cruciferous vegetables),
— z kory dębu dla: lettuce and dwarf beans,
— z kozłka dla: carrots, chicory, cucumbers, tomatoes, peppers, pumpkin, onions, leeks and celery.
The preparation of cow or valerian is prepared just before use. On the other hand, preparations made of oak bark and chamomile dissolve in warm rainwater (1 teaspoon on 1 1 water); it is all mixed up for so long, until the substance added to the water dissolves and the resulting solution is allowed to stand for 20-24 hours. After this time has elapsed, it can be used to soak the seeds.
The amount of seeds needed for sowing is poured into a bowl or other vessel and poured with a slightly warm solution; everything is mixed up, until the clumped seeds separate. You can also put the seeds in a cloth bag and soak in the solution. The time of soaking the seeds varies and is, for example, for:
– beans 10-15 minutes, then we sow them immediately,
– kapustnych 30 minutes,
– radishes and radishes 15-30 minutes,
– grochu do 2 hours, then by 24 we keep hours under a damp cloth, which accelerates germination.
Seeds of other species can be soaked through 60 minutes. The exception is watercress, because the seeds stick together during soaking, which makes it difficult to sow them. To prevent this, sprinkle the prepared solution on the seeds already sown. After soaking, the seeds should be lightly blotted dry and sown into the soil on the same day, and on the following day at the latest.