Herat Abjosh raisins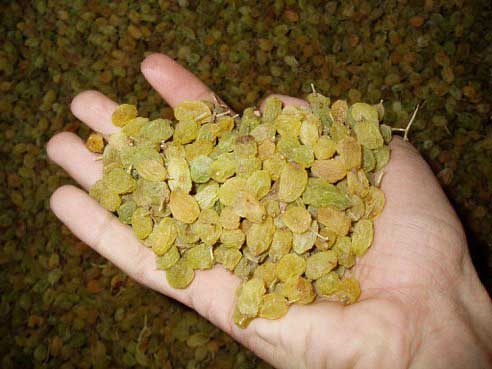 Herat is the third largest province in Afghanistan, located in the western part of the country. It has a valuable architectural heritage and has long been an important center of art and science, with a rich tradition of music, calligraphy, painting, astronomy and philosophy. The area is famous for its excellent quality raisins and numerous grape varieties - over 120 - the cultivation of which according to the Arabic calendar dates back almost five hundred years. The history of the Herat grapes is shrouded in mystery, but it is supposed, that about 2000 BC could be cultivated by nomadic people, which spread throughout Central Asia during this era. Before the outbreak of the Soviet-Afghan war in 1979 r. Afghanistan was 60% the world produced Abjosh raisins and was the largest crop in the country. They are currently registered 44 types of grapes, including seven of the highest quality. With the help of the University of Herat, the Presidium of Herat Abjosh Raisins analyzed and classified 27 grape varieties according to their shape, color, consistency and application. Fakhery grape variety, used to make Abjosh raisins, it is unique to Herat and Kandahar. Fresh grapes grow white or light pink in color and can be eaten as table grapes or used to make Abjosh raisins.
The grape training system is the same method, which has been used for five centuries. It fits well with the geography and climate of Herat. Transplants or cuttings are planted in deep ditches 1 meters and width 60 centimeters, stretching from east to west. The southern edge of the trench gradually fades away, and the earth forms a south facing wall, forming a right triangle, on which the vine will rest. The grapevine will continue to grow from this angle. Occasionally, only natural fertilizers and pesticides - such as sulfur - are used, and in small amounts. August and September are very sunny and hot months, which produce a very high percentage of the sugar in the grapes, do 18%, just before harvest. The harvest begins in early September and lasts three months.
Before the drying phase begins, the berries are placed in boiling water for a few seconds, to slightly crack the skin without damaging the inside of the fruit. This process is called "abjosh", from which the raisin takes its name. This speeds up the time it takes for the fruit to dry. The grapes are then placed in the sun for up to six days. Unlike other raisins dried in direct sunlight, this variation remains bright, turns golden and remains soft. The raisin is large and elongated, and the seeds are still present in the dried fruit.