Mahonia common - Mahonia aquifolium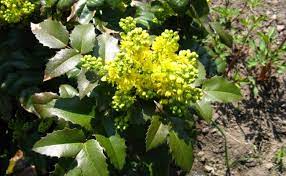 This shrub has very decorative leaves that do not fall over the winter, dark green, spiky toothed and as if covered with varnish. In autumn they take on a red "mahogany" shade (hence the name). It is also decorated with clusters of dark blue fruit, resembling blueberries. Suitable, among others. for low hedges. Mahogany twigs can be added to dry bunches, but they look best in combination with spruce, mistletoe and colored candles intended for the Christmas Eve table.
The big advantage of mahogany is its low requirements. It grows well in average soil (although it is better on fertile and humus), as well as in shady places - under trees and shrubs. It is completely resistant to frost, surpassing most evergreen shrubs. Only in snowless and windy winters do its leaves turn brown.
This shrub is easy to buy in nurseries, but he is also one of the few, which can be propagated on a plot from seeds. They should be sown immediately after harvesting, in September, because they germinate badly when dried out. Quilt young seedlings, planting at a distance of 20X10 cm, and trim the plants after a year, that they would spread better. Mahogany purchased in a nursery is planted in late spring. A shrub with a large root ball is better able to replant.