Rhododendron, rododendron — Rhododendron spp.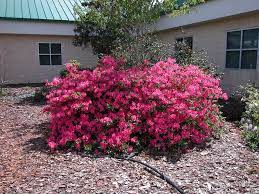 This is another rarity on the plot, both because of their rarity, as well as flowers gathered in large bouquets and resembling azaleas. Shrubs belonging to this genus are large; some species even with us - naturally in good conditions - grow up to 5 m. Usually, however, they grow slowly and rarely reach this size on a plot of land. The most spectacular and most sought after is the Katawbi rhododendron (Rhodedendron catawbiense). Its flowers are approx 5 cm and a beautiful purple color in various shades - from light lilac, often with greenish to almost purple spots; there is also a variety with white flowers. It blooms in June. The leaves of this species are elliptical, 6-10 cm long. The rhododendron of Smimowa is equally impressive (Rhododendron smirnowii), which differs from the previous one mainly in this, that the leaves are bigger, more leathery and densely hairy underneath, and the inflorescences are more compact, almost spherical.
Although rhododendrons are sensitive to frost, however, both of these species tolerate our winters better, than is generally believed. The widespread opinion about the "capriciousness" of the rhododendron is mainly due to their specific requirements for environmental humidity. These shrubs are best suited to air saturated with water vapor, fog and cloudy weather, as well as moderate temperature without sudden fluctuations. In Poland, rhododendrons grow and winter best in western and coastal areas.
A secluded place should be designated for rhododendrons on the plot, semi-shaded or at least shaded at noon, Prepare the soil as follows. A hole with a diameter of approx 1 m, depth 50 cm and - if the soil is sandy - the sides and bottom are lined with a few centimeters of clay (on clay soil it is unnecessary). The bottom should be filled with a mixture consisting of 2 parts (e.g.. buckets) non-de-acidified peat, 1 part of the land from the top layer of scraped off the plot and 1 parts of sand. It is also worth replacing the garden soil with soil brought during the trip from the moor, with an admixture of rotten pine or spruce needles. Rhododendrons require acid soil, o pH 4–5; you have to check it with an acid meter and if it is still too little acid, add more peat. A shrub with a large root ball is planted into the pit prepared in this way, with which they should be sold.
After planting, the bushes must be watered abundantly and shaded at the sunny midday for at least a month. In later years, you also need to water regularly, until late autumn, that the soil is constantly visibly moist. To prevent grass or weeds from overgrowing the area under the bush, it is best to loosen the soil and mulch leaves every spring, either (which is more favorable) peat mixed with manure or with mineral fertilizers containing no lime. In winter you need to sprinkle this amount of peat, leaves or forest litter, that the base of the bush is covered as high as possible. Very young rhododendrons do not require pruning at all, later, only damaged shoots are removed.