Almond - Amygdalus triloba plena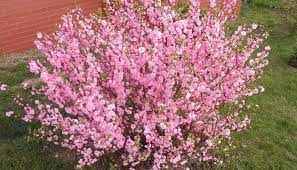 The almond is a flower lovers favorite. It makes its flowers so special, similar to small ones, full of candy florets, pink color. These flowers are placed densely along the rodents, shoots bending slightly under their weight. They look beautiful in the garden and in a vase. Flowering can be accelerated, by placing twigs in the apartment at the end of winter (so, like forsythia). Normal flowering time is late April and early May. Some gardeners try to acquire the post tonsils, that is, grafted onto a tall stump, however, shrub forms are preferable, that look natural and tolerate frost better.
The tonsil grows the most vigorously and blooms in fertile soil, quite damp, long cultivated. It fails on sands and heavy soils, wetlands. Moreover, it likes quiet and sunny places. It can freeze in severe winters, so it is better to make a mound of earth over the roots, and in the eastern part of the country - even wrap a bush with straw. The tonsils are pruned according to the rules applied to group II shrubs, but less often (every 3-4 years) and weaker, because the flowers are embedded in the entire length of the shoots.