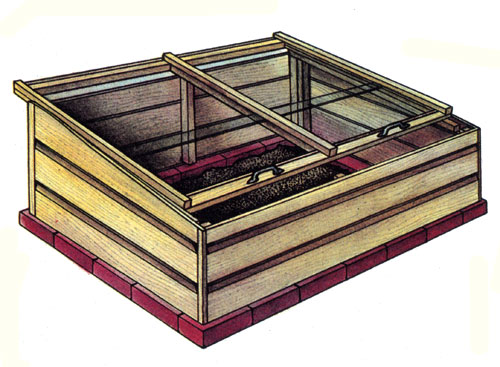 Generally, three types of vegetables can be grown under cover. The selection of varieties with a short cultivation period and favorable conditions make it possible to produce 4-5 species in a season, and with coordinate cultivation, the number of vegetable species can be increased even more. A properly selected species for coordinate cultivation not only reduces the growth of weeds, but also stimulates the growth of adjacent plants grown for the main crop. Just like in the field, also in the inspection and under other covers, the rules of crop rotation must be followed. In spring, it is best to grow leaf or root vegetables, fruit in summer and root or leaf in autumn.
As the fourth part of the crop rotation, you can sometimes introduce summer flowers or cultivate them together with fruit vegetables. Marigolds or nasturtiums are especially suitable for this, that scare away various pests. Nasturtium is also an excellent ground cover plant. Because still other species can be grown, you should try out the different variants for yourself. The table shows examples of changeover to enable the use of the inspection all year round. Spring crops must be protected against night chills by covering the windows with mats or boards. As the plants grow, the chests are aired more and more; this is especially true of head lettuce, which is rarely watered, but abundantly. During the binding of the heads, lettuce is sensitive to high air humidity. It should be watered in the morning, and in the morning at the latest.
Radish, Radish and kohlrabi need warmth and sufficient soil moisture to grow quickly and properly. Radishes can be grown coordinates with kohlrabi.
Plants grown in summer have more or less the same thermal requirements, however, they differ in terms of air and soil humidity. Cucumber likes a constant temperature, at least 16-18 ° C, and very high air humidity. Therefore, plants should be sprinkled frequently, but necessarily lukewarm, not cold water, and ventilate crates or foil tunnels sparingly. Cucumbers can be grown after an early frame lettuce. If the weather is sunny, but the air temperature is quite low, it is better to shade frames than to ventilate them. Cucumber tolerates very high summer heat with all-day shading of windows and frequent sprinkling with water.
Zucchini, which comes from southern Europe, has much less requirements. Only to set the first fruits, you need to shade the windows and possibly sprinkle the plants. Then it tolerates both heat wells, and the cold. Bushy varieties of zucchini (without runners) they are more fertile. Zucchini fruits are widely used not only in processing, but also suitable for consumption fresh. They can, to some extent, replace cucumbers.
The melon has the greatest heat requirements. Besides, it likes a lot of light and water in the soil. The melon cultivation period is relatively long, because the first fruits set very late. Therefore, not in all conditions and not every year, the results of growing this valuable vegetable are satisfactory. The three above-mentioned species have a very shallow root system. Therefore, additional fertilization with compost or watering with organic fertilizers is beneficial for them, and later also mulching the soil surface. It is unnecessary to loosen the soil; emerging weeds can be pulled out manually.