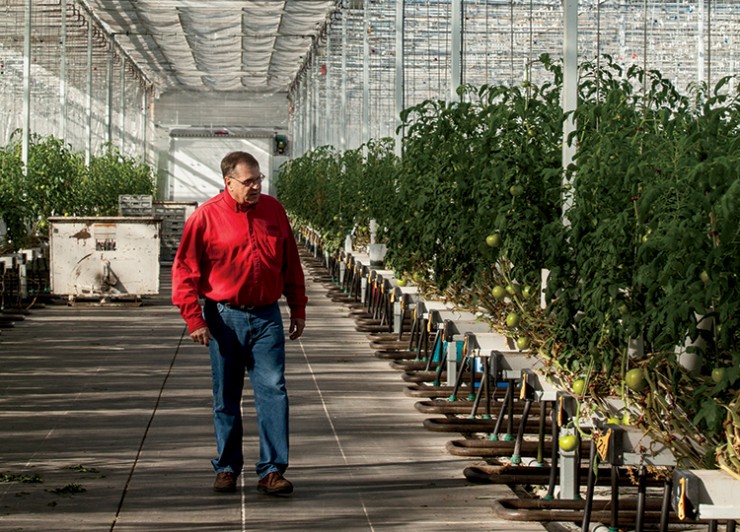 Cultivation in a heated greenhouse
The heated greenhouse offers an unlimited choice of sowing and planting dates. There is no doubt, however, that own production of lettuce or tomatoes for Christmas is unprofitable.
In a greenhouse, it is especially important to use various organic substances, like manure, compost, horn meal, castor meal and straw and grass for mulching the soil surface. You have to take care of it, so that all these ingredients decompose by winter.
Remains of undecomposed organic residues clearly increase the possibility of various fungal diseases. Within a few years, the content of humus in the greenhouse soil can be increased to 10-15%, and only by using compost for the cultivation of cucumbers or tomatoes each year. With sufficient water and air, the decomposition processes take place most quickly in the summer. Thanks to this, lettuce can be grown in autumn, radish, kohlrabi or watercress. It is very important to maintain the correct light ratio, air and water. The excess of water in a small amount of light promotes the development of fungal diseases. On the other hand, the excess air (drafts) and water scarcity creates favorable conditions for the development of insects.

From time to time, the degree of soil moisture should be checked at a depth of approx 40 cm, as most plants draw water from this layer. Using a soil auger, we take a soil sample, which should be moderately moist at this depth, and most often it is too dry. Then it is necessary to water it abundantly. Good to remember, that under greenhouse conditions, plants take up twice as much water as under field conditions. It suits you 1500 mm of rainfall throughout the year. Collected rainwater in quantity 750 mm covers half of the annual requirement.
It is extremely important to stimulate life processes in greenhouse soil. You know, that constant use of the tiller clearly destroys the lumpy structure of the soil. This is the conclusion, that soil cultivation should rely on manual tending work. With regular fertilization with compost and mulching the soil surface, its shallow loosening with a hoe is sufficient. American forks are used to loosen compacted soil or paths. In autumn and winter, endives can be grown in an unheated greenhouse, lamb's lettuce and spinach. The production of seedlings needed for the next year can start already in autumn. This mainly applies to early lettuce, which is planted in January, and it sows in October or November. However, the production of seedlings in winter is very expensive due to the small amount of daylight and the resulting need for additional lighting. Therefore, it is better to buy early seedlings from the gardener, and start own production in January. The land for sowing is prepared in summer from mature compost, peat, sand and possibly sieved clay, bentonite and fertilizer mixtures. Dusting the seeds with ground charcoal or spraying with SPS increases the disease resistance of the seedlings, especially for gangrene of seedlings. For germination, seeds need solid, often high temperature (paprika requires 22-24 ° C) and high humidity. The seedlings are plucked into earth or ordinary pots, or shallow boxes. Timely quilting, placing the pots and planting seedlings at the right temperature protects the plants from excessive stretching.