Fields for games are made in areas designated solely for sports purposes, on school grounds, in open green areas and in places, which are suitable for this purpose. Open areas, on which the pitches are built, specific requirements are set to enable the construction and proper use of the playing fields. The land surface should be flat and level with, the possibility of draining surface and groundwater. The ground should be firm (mineral) and permeable, with the groundwater level below 70 cm. Good sunlight and windbreaks are required. The area should be provided with water.
There are two types of games: sports and entertainment. The most popular sports games are among us: football, basketball, volleyball, tennis, handball, and less popular - rugby and field hockey. Entertainment games include: comet (badminton), bowling, briquette, mini golf, ringo (deck tennis).
When constructing the playing fields, the basic dimensions must be respected, markings and provide the necessary equipment.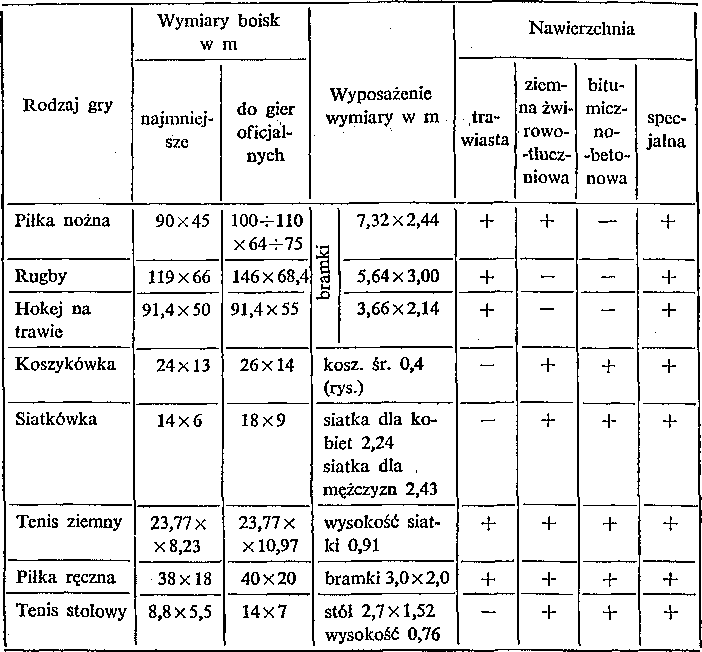 The amusement game pitches are characterized by small size and simple equipment. In addition to the above-mentioned games, these types of games include volleyball and basketball played on smaller pitches and table tennis (garden) on fixed concrete tables (lower for young people) and chess (garden) played on chessboards forming part of the square surface or made in the planes of permanent garden tables. Quite simple rules of this group of games make it possible to play them by people of a considerable age range.